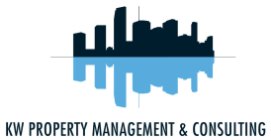 Summary/Objective
Provides management, direction, and leadership to ensure the property is maintained and operated in accordance with KWPM objectives. Property Managers are certified and licensed by the State of Florida for Community Property Manager (CAM).
KWPM Culture
As a team member of KW PROPERTY MANAGEMENT & CONSULTING, you are expected to understand and support the mission statement of the company and practice our GREAT values every day. These values include but are not limited to greeting and smiling; showing respect with name recognition and eye contact; accepting the empowerment to exceed everyone's expectations and showing enthusiasm for your position and duties; being accountable to show a positive attitude and accountable for your actions; and be trustworthy in your duties and transparent in everything you do. These are our GREAT values and part of your work practices and expected as part of your daily activities while working at KW Property Management and Consulting.
Job Complexity & Critical Skills
• As the key employee liaisons between the client, KW Property Management, and internal support staff, the Property Manager must perform the job duties with a view toward projecting a professional and competent image: Service to the customer in a friendly and outgoing manner is essential, while timeliness and professional appearance are key.
• The position is fundamental to all functions of the community and includes working closely with the Association Board of Directors and/or the Developer to manage and operate the community, facilitate solutions to problems within the community. Strong management skills, customer service skills, and supervisory skills are required.
Duties and Essential Functions
Reasonable accommodations may be made to enable individuals with disabilities to perform the essential functions.
• Demonstrate a positive, professional and client-oriented attitude about the company with coworkers, residents, owners, clients and the public; whether contact is by mail, telephone or in person. Constantly strive for improvements in work process and results to better meet client's expectations.
• On assigned properties, act as the company's primary coordinator to assure that the company's efforts fully meet and exceed contractual property management obligations.
• Prepare annual budget for the association.
• Analyze and distribute monthly financial statements including operating variances from budget, cash management and strategies for collection of receivables.
• Maintain complete and accurate property files and records, according to department systems, with an emphasis on documentation for future reference. Coordinate with headquarters support staff on management company procedures for processing and distributing information. Provide prompt, detailed and accurate general status reports on all properties assigned.
• Supervise on-site team members. Develop specifications and continually evaluate service needs and performance in all areas of maintenance and management. Encourages staff to behave in a professional manner and comply with company's safety standards. Motivates staff to work as a team.
• Establish and maintain collaborative working relationships between departments, with coworkers and particularly with other members of a project team. Prepare for team meetings, in advance, and act as chairperson for the meeting.
• Acquires and maintains current knowledge of state and regulatory agency statutes and each client's community documents, policies, and procedures.
• Initiates contact with new resident representatives to coordinate the move-in process, provides an introduction and orientation to the staff and building, reviews available services, and reviews the building rules and regulations.
• Sets and adheres to the highest standards of performance and instills them in the staff by personal follow-up to insure that the service is being delivered.
• Responds to phone calls and correspondence in a timely and professional manner.
• Maintain a professional relationship with the BOD, Unit Owners, and vendors.
• Ability to run a BOD meeting when necessary according to Roberts Rules of Order.
• Creates a management report, which depicts an update on administrative items, a financial overview, actual condition of the property, progress of specific projects, and makes clear and concise recommendations.
• Prepares professional presentations of reports, action plans, budgets, bid analysis, etc.
• Supports the KWPM's GREAT values, philosophy, goals and adheres to KWPM policies.
• Organizes time effectively and successfully balances the competing demands of multiple projects.
• Attends monthly Manager's meeting.
• Maintain and uploads all documents into the management support systems accurately and update accordingly.
• Monitors contracts regularly. Evaluate and negotiate all contracts effectively. Ensure all vendors provide a certificate of insurance naming the Association and KW Property Management as additional insured and certificate holder. Obtain copy of all business licenses from vendors. Update all documents accordingly.
• Maintain accurate records, files and communication pertinent to the Association office. Organizes all files and policies as per the company's standards.
• Update Association communication regularly – Update menu boards, prepare Association newsletter, update Association web-site.
• Processes violations, work orders, architectural control applications, lease applications, and sale applications regularly on a monthly basis as required.
• Possesses all knowledge of assets cash balances and availability of funds for projects. Cash flow management for capital improvement.
• Monitors aging report, timely legal action, and updated collection module on a timely basis.
• Keeps up to date equipment maintenance logs, inventory, and update preventive maintenance manual quarterly.
Competencies:
• Communication Proficiency
• Business Acumen.
• Customer/Client Focus.
• Decision Making.
• Financial Management.
• Results Driven.
Supervisory Responsibility; This position will be responsible in managing the staff on-site
Work Environment
This job operates in a professional office environment. This role routinely uses standard office equipment such as computers, phones, photocopiers, filing cabinets and fax machines.
Physical Demands
The physical demands described here are representative of those that must be met by an employee to successfully perform the essential functions of this job.
While performing the duties of this job, the employee is regularly required to talk or hear. The employee frequently is required to stand; walk; use hands to finger, handle or feel; and reach with hands and arms. The employee will need to walk the property on a daily basis which will include climbing stairs.
Position Type/Expected Hours of Work
This is a full-time exempt position. Days and hours of work are Monday through Friday. Business hours will be determine by the client's needs.
Travel
There will be some travel to attend training and/or meetings, locally.
Required Education and Experience
• Three (3) years of experience as Community Property Manager managing the community operations, such as staff and service contracts.
• High School diploma required, college degree preferred
• Must have a strong working knowledge of customer service principles and practices.
• Ability to read, analyze, and interpret technical procedures, leases, regulations, or documents with a similar degree of complexity.
• Must be proficient and working knowledge of Microsoft Office Applications.
• Must have a Florida CAM license.
• Must have a valid FL Driver's license.
• Employee is sometimes required to work for extended periods of times; being flexible in the hours which could include nights and weekends.
• Must have the ability to react and address all emergency situations in a timely manner.
• Some locations will require bi-lingual in English and Spanish
Other Duties
Please note this job description is not designed to cover or contain a comprehensive listing of activities, duties or responsibilities that are required of the employee for this job. Duties, responsibilities and activities may change at any time with or without notice.
Respond to this ad:
Kw Property Management & Consulting
Johnny Stephens
recruiting@kwpmc.com
7863631669