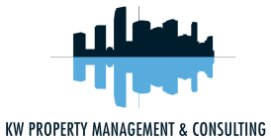 Summary/Objective
The assistant property manager provides management, direction, and leadership, along with the Property Manager, to ensure the property is maintained and operated in accordance with KWPM objectives. The position is responsible for the various tasks involved in the overall operation of the property, including managing and developing team members.
KWPM Culture
As a team member of KW PROPERTY MANAGEMENT & CONSULTING, you are expected to understand and support the mission statement of the company and practice our GREAT values every day. These values include but are not limited to greeting and smiling; showing respect with name recognition and eye contact; accepting the empowerment to exceed everyone's expectations and showing enthusiasm for your position and duties; being accountable to show a positive attitude and accountable for your actions; and be trustworthy in your duties and transparent in everything you do. These are our GREAT values and part of your work practices and expected as part of your daily activities while working at KW Property Management and Consulting.
Duties and Essential Functions
Reasonable accommodations may be made to enable individuals with disabilities to perform the essential functions.
• Schedules and organizes complex activities such as meetings, conferences and department activities for all members of the department.
• Organizes and prioritizes large volume of information and calls.
• Acts as a liaison with other departments and outside agencies, including District Managers, Vice-Presidents, Board members, and Chief Engineers.
• Handles confidential and non-routine information and explains policies when necessary.
• Coordinates division of workload with the administrative assistant of the property.
• Maintain, update, type, and coordinate account information in computer database.
• Coordinate and track important dates and meetings, such as annual and budget meetings.
• Ensure that all communication is handled in a professional and courteous manner from the team on site. Also ensures that phone messages and e-mails are responded to appropriately and within a 24-hours, business hours.
• Ensure that all mail (i.e. Fed Ex, UPS, USPS) is picked up daily, in a timely manner.
• Assist with producing minutes for Board Meetings.
• Assist with preparation of the Board Agenda's and Board Packet.
• Responsible for coding and entering all Invoices for the community.
• Responsible to work closely with Committee's and each Committee Chairperson.
• Assist with gathering quotes & proposals for projects for the community.
• Daily management of the office staff and/or other team members on-site.
• Supply ordering for Maintenance, Housekeeping, and the Office.
• Assist in posting all agenda to proper physical locations and to the website.
• Responsible for making sure Lynk and KWIC information is kept up to date.
• Responsible to make sure that Vendor Packets are processed for all Vendors.
• Monitoring of Vendor License and Insurance Expirations.
• Reservation & coordination of conference room events.
Competencies:
• Supervisory Responsibility; This position will be responsible in supervising team members and/or departments at the property. In addition;
• Problem Solving/Analysis.
• Leadership.
• Teamwork Orientation.
• Customer/Client Focus.
• Time Management.
• Communication Proficiency.
• Technical Capacity
Work Environment
This job operates in a professional office environment. This role routinely uses standard office equipment such as computers, phones, photocopiers, filing cabinets and fax machines.
Physical Demands
The physical demands described here are representative of those that must be met by an employee to successfully perform the essential functions of this job.
This is largely a sedentary role; however, some filing is required. This would require the ability to lift files, open filing cabinets and bend or stand as necessary.
The employee is occasionally required to sit, stand, reach, lift, bend, kneel, stoop, climb, push and pull items weighing 20 pounds or less. The position requires manual dexterity; auditory and visual skills; and the ability to follow written and oral instructions and procedures.
Position Type/Expected Hours of Work
This is position is exempt (salaried) and full-time. Days and hours of work will be determine based on the business needs of the property. Occasional evening and weekend work may be required as job duties demand.
Travel
Minimal travel will be required for this position. Travel will be to attend meetings and trainings at an off-site location, generally within the city limits of the job site.
Required Education and Experience
• Active FL CAM license
• Prior experience in a related position; a minimum of 3-year experience.
• High School diploma required; college degree preferred
• Working knowledge of computer and associated programs; MS Office Suite.
• Ability to multi-task, set, and manage priorities.
• Excellent communication and listening skills in order to interact with a diverse and multi culture population.
• Keyboarding ability with accuracy at 45-50 words per minute.
• Must function in team organized environment.
Other Duties
Please note this job description is not designed to cover or contain a comprehensive listing of activities, duties or responsibilities that are required of the employee for this job. Duties, responsibilities and activities may change at any time with or without notice.
Respond to this ad:
Kw Property Management & Consulting
Johnny Stephens
recruiting@kwpmc.com
7863631669