Complete 60-Hour Broker Post-license Course
275
Register Now
The Bert Rodgers post-license courses utilize video, animations, interactive exercises, and progress checks to make learning engaging and enjoyable. The entire course has been designed to be completely user friendly, even for students who have never taken an online course before. You can study from anywhere with an internet connection using a desktop, laptop, and most mobile devices and tablets. Don't let the thought of a 60-hour course scare you. Students are amazed at how fast they can learn while navigating the material and completing the course modules. You will receive instant access to the material enabling you to begin working immediately.
This renewal package includes:
30-hour Broker Mgmt. Course Covering:

Characteristics of successful brokers
An overview of applicable rules and regulations
Business structures, escrow accounts and deposits
Escrow disputes
Office requirements and audit preparation.

30-hour Advanced Topics Course Covering: 

Finance, covers the SAFE Act, loan products and qualification, foreclosure, FHA and VA loans, other loan programs such as ARMs and HECM loans, consumer protection, fair lending, and ethics.
Advanced Insurance, provides an overview of homeowners' insurance options, exclusions, coverage for windstorm, flood, mold, or sinkholes, title insurance, Citizens property insurance, legislation, public adjusters, and surplus lines.
Commercial Real Estate, provides an introduction to commercial real estate brokerage, types of commercial real estate, working with commercial buyers, Florida's commercial real estate sales commission lien act, securities laws, ADA, and issues of concern such as hazardous waste assessments, superfund sites, and brownfields.
International Real Estate, discusses considerations when working with international homebuyers and investors, including a discussion of trends, the role of currency in foreign investment, characteristics and motivation of buyers, legal and financing issues for foreign buyers, and professional networking alliances.
To register for individual 30-hour post-license courses: View Individual Course Options
Why students choose Bert Rodgers?
Since 1958, Bert Rodgers Schools has served as Florida's leader in Real Estate education. When it comes to important renewal courses, thousands of students trust our courses and staff to assist with everything they need to keep their license in good standing. Whether you have a question about renewing your license, the course material, or a technical question related to your online course, our staff, instructors, and online support team are here to assist every step of the way.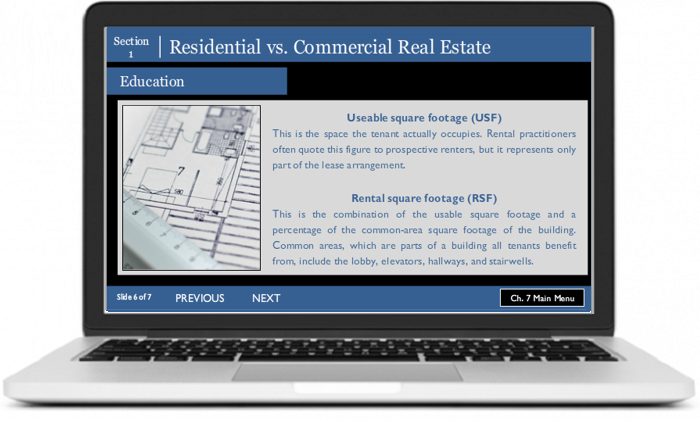 System Requirements: Bert Rodgers courses are designed to run on most computers and mobile devices. Our technical support team is here to assist with any questions that you may have regarding running your course. To view system requirements, Click Here!