Note: The 2020 CAM CE Textbook for the September 30th, 2020 deadline will be available in late 2019.
Renew Your Community Association Manager (CAM) License
Community Association Managers (CAMs) in the state of Florida are required to complete 20-hours of continuing education by September 30th, 2020. The Florida CAM continuing education requirement includes 4-hours of approved courses in each of the topics: 1) Legal Updates, 2) Human Resources, 3)Insurance & Finance, 4)Physical Property, and 5)Elective credits.
Bert Rodgers offers the required continuing education courses needed to renew your Florida CAM license in a convenient online or correspondence textbook format. Since 1958, Bert Rodgers has helped Florida professionals obtain and renew licenses and we look forward to helping you do the same. Please contact our helpful student services staff at 1-800-432-0320 if you have any questions. We are happy to assist.
Have you completed our textbook CE courses?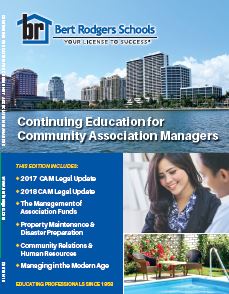 Submit your answers online:


Online grading allows students who have received a copy of the Bert Rodgers CAM Continuing Education book in the mail to submit the answers to their exams for immediate grading and results. Upon completion, you will receive a pass slip and a diploma to keep for your records. Our staff will handle all of the necessary reporting of your completion to the state on your behalf making it easy to renew your license.
Do you need a copy of the Bert Rodgers CAM CE Textbook? Click Here to request one and we will be happy to send it to you.
---
Do you need to complete CAM Continuing Education Courses?
Online Continuing Education Packages:
Bert Rodgers online continuing education courses are designed to be easy to complete and are filled with useful information relevant to your CAM career. Upon enrollment, you will have instant access to the course material. Our staff and instructors are available to support you throughout your course in the event that you have any questions. A pass slip and diploma will be issued immediately following your course completion, and our staff will handle all the reporting of your education to the DBPR on your behalf. At Bert Rodgers Schools, we make your CAM continuing education one less thing to worry about.
18-hour CAM Continuing Education Online Course Package: $129


(This package is for students who have already completed the 2-hour 2017 Legal Update and need the remaining 18 hours of CE to meet the 20-hour requirement.)
Courses included in this package:
2018 Legal Update (2-hour LU #9628826)
Community Relations and Human Resources (4-hour HR #9628756)
Managing in the Modern Age (4-hour ELE #9628757)

Management of Association Funds (4-hour IFM #9628754)

Property Maintenance and Disaster Preparation (4-hour OPP #9628755)
---
10-hour CAM Continuing Education Online Course Package: $89


Choose any combination of the following courses totaling 10 hours:
2018 Legal Update (2-hour LU #9628826)
2017 Legal Update (2-hour LU #9628758)
Community Relations and Human Resources (4-hour HR #9628756)

Managing in the Modern Age (4-hour ELE #9628757)
Management of Association Funds (4-hour IFM #9628754)

Property Maintenance and Disaster Preparation (4-hour OPP #9628755)
---
Individual Online Courses: