Florida CAM Continuing Education Requirement:
In the state of Florida, Community Association Managers (CAMs) must complete 20 hours of state approved continuing education courses by September 30th of even numbered years (i.e. 2018, 2020,2022, etc.) The CAM continuing education requirement must include the following topics:
Annual Legal Updates
Human Resources
Insurance & Finance
Physical Property
Electives
Renewing your license is easy and can be done through either classroom or online education. Bert Rodgers Schools has developed a reputation for providing quality and user-friendly CAM continuing education courses with the focus on giving you real-world and relevant information. We understand that your time is valuable and so our entire team is dedicated to taking the frustration out of CAM continuing education with courses that are easy to complete, and fully supported by our entire staff.
CAM Continuing Education Courses:
View our state approved continuing education course options. You can choose from complete continuing education packages, or individual courses.

Renewing your CAM license with the state:
Simply go to http://www.myfloridalicense.com/ and click on the "Renew & Manage My License" tab to follow the license renewal process.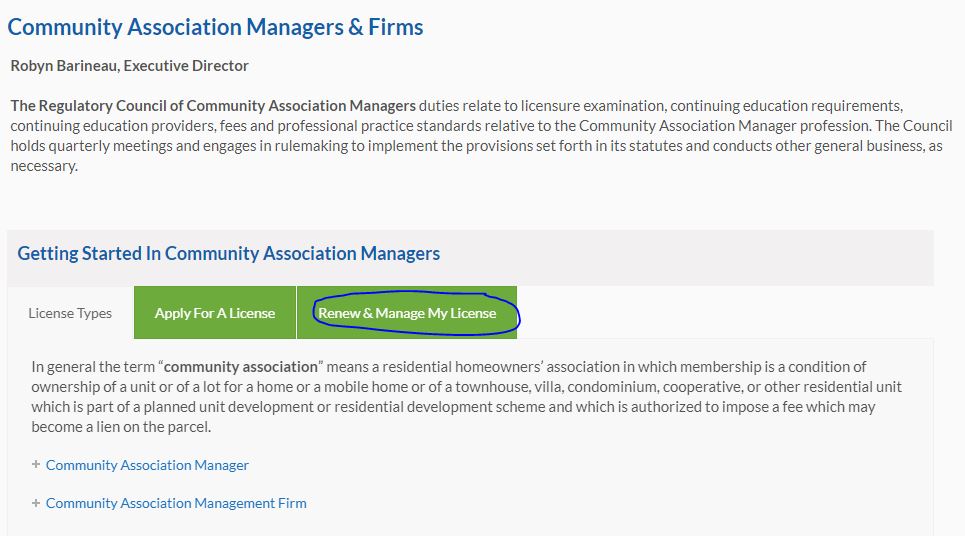 Questions & Course Support:
If you have any questions about how to renew your Florida CAM license, our entire staff is here to assist. Simply give us a call at 1-800-432-0320 or visit us online for complete details. We look forward to helping you renew your Florida CAM license.